I remember watching Flashdance when I was a little girl back in the early 1980's on Television. I remember thinking how beautiful Jennifer Beals was the lead in the film and what an amazing dancer she was. I am glad the Tom Headley's gave them permission to make it into a musical.
Opening night last night in Manchester, dancers burst into song and dance as soon as the curtain raised. I was dressed up as 80's girl crimped hair, dramatic makeup and pink lips I was ready to be taken back to the 80's. The lead of the show played by Joanne Clifton an ex-Strictly Come Dancing winner and a world champion ballroom dancer leaped her way across the stage and played the part perfectly.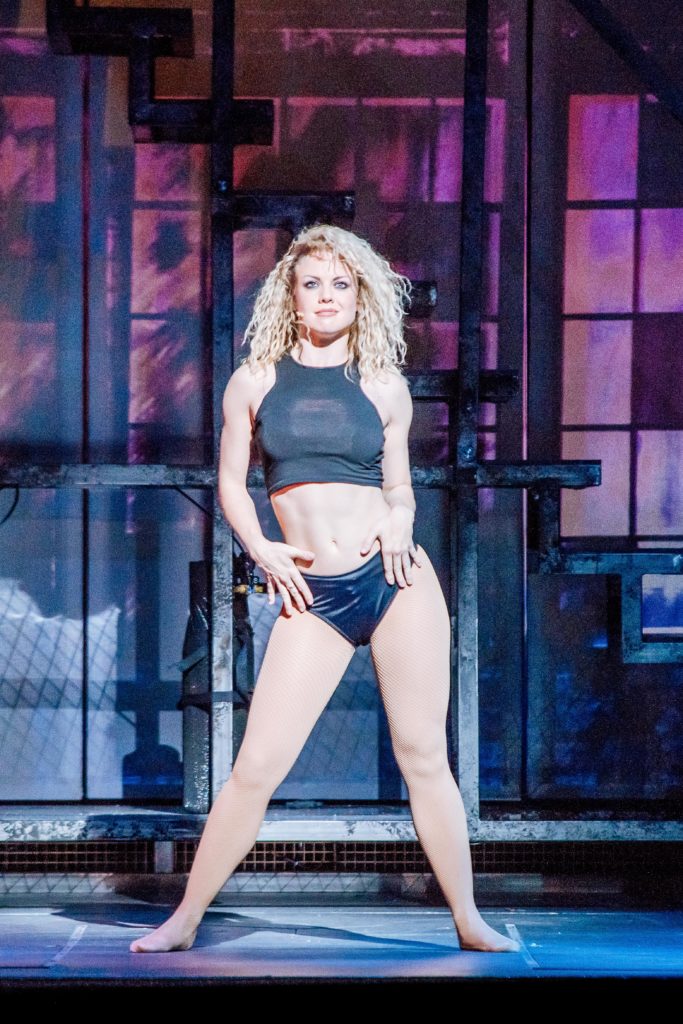 If you haven't seen the movie here is a quick summary. Flashdance tells the inspiring and unforgettable story of 18 year old Alex, a welder by day and 'flashdancer' by night, who dreams of going to the prestigious Shipley Dance Academy and becoming a professional dancer. When a romance complicates her ambitions, she harnesses it to drive her dream. Alex's character is a tough young lady, no walk over and also very ambitious and to fulfill her dancing dream.
Her love interest played by Ben Adams former boyband member A1 compliments her voice well. The on-stage chemistry between them makes them a great couple to dance and sing together.
A couple of the cast, I must mention as we really enjoyed their performance's Gloria played by Hollie-Ann Lowe a wonderful dancer and a lovely singing voice and Hannah played by Carol Ball. She played the part of Alex's mentor. Wonderful actress very comical and had the skill of making the audience feel comfortable with her sharp wit and humour. I also particularly enjoyed watching Louise played by Sasha Latoya very funny and had a very strong powerful voice (Its a shame we didn's hear more of her)
Without a doubt a very talented cast and crew, when you scroll through their bios all professional dancers, with prestigious credits to their name. Excellent casting Victoria Roe!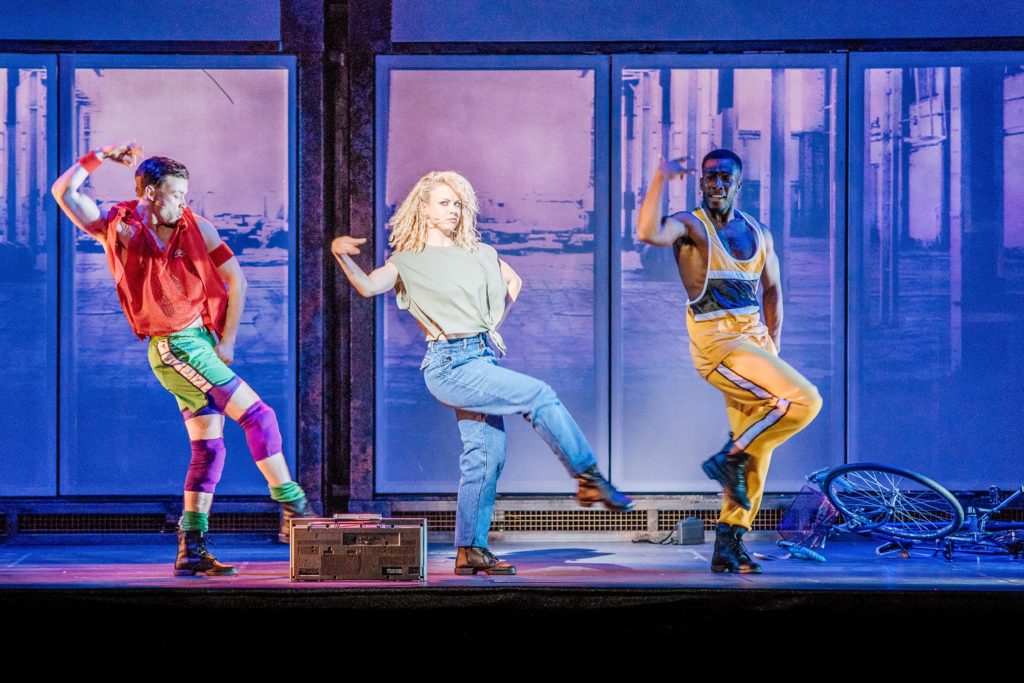 There are also some nice surprises during the musical the addiction of the song 'I Love Rock n Roll' which I loved the scene when Gloria's character Hollie-Ann Lowe performs this. A true rock icon and a wonderful outfit, a bit like an 80's Madonna outfit. Great work Shoni Wilkinson!
Of course the old favourites of Maniac, Gloria and Flashdance…. what a feeling was performed. All I wanted to do was jump on stage and join them in my underwear and leg warmers! Great music too by George Carter, a full band!
The reason this performance was a 5 star for me as I loved the choreography, well done Matt Cole! Joanne Clifton's passion, flair, and utter stamina is truly outstanding! Doing night after night! With that degree of passion and skill is just alone well worth seeing. Mesmerising Joanne, your an athlete!!
Be quick Flashdance is only on from now until Saturday 17 February 2018. A lovely Valenties gift too!
Tickets – http://www.atgtickets.com/shows/flashdance/palace-theatre-manchester/ 
(£22.40- £59.40) per person well worth the money.
After that is continues its UK Tour – http://www.flashdanceuktour.co.uk/tour-schedule