Michael Joseph Jackson was born 29th August 1958 in Indiana in the United States of America. Born one of a family of eight he made his professional debut at the age of six with his brothers as the Jackson 5. Last year, he pulled in a reported $825 million, according to Forbes, "the highest annual total for any entertainer dead or alive," thanks to the sale of his half of the Sony/ATV catalogue.When Jackson died in 2009, he was worth an estimated $500 million. Even after his death he still makes more money than any of us in a lifetime in 2017 making $75 million alone more than Elvis Presley, Bob Marley, John Lennon or Prince.
It is no doubt in my mind that Jackson is one or the best male entertainers that has ever lived. Creating a new music style and then millions of people will copy hundreds of years and generations after.  A true legend who had a career over five decades! The true king of POP, R&B and Rock!

When I heard his music was going to be turned into a musical about his life in 2006 I knew it would be a big hit. Very rarely you can make a two and a half hour production about one person's life and make it a success. A success that spans over 10 years and multiple world tours.
Last night Kieran and I attended the press night of Thriller Live at the Palace Theatre in Manchester in the United Kingdom. What a treat we were in for!
The story started in Jacksons' early years in the Jackson 5 with vocalists Britt Quentin, Shaquille Maurice Hemmans, Bizzi Dixon, Rory Taylor and Adriana Louise. Each singing different parts of the Jackson 5's songs. I couldn't believe how high Britt's voice was, he certainly does sound like a Jackson boy wow! Singing ABC and Rockin' Robin nice upbeat Jackson songs. They did have a section where a screen appears with a little boy dancing to the audience with real dancers in front of him. I thought it was cute and nice but quite impersonal a real singer would have made it better. Friends have told me that other versions of the musical had a real boy singing and dancing.
I loved the Don's Stop/Billie Jean Remix the set design and costumes were great too. Well done Jonathan Park and Shooting Flowers! For me, the best part of the first act was Dangerous where we are first introduced to vocalist and the incredible dancer Eddy Lima. Originally from Brazil, Eddy is one of the most amazing dancers I have ever seen! His timing, ability and his moonwalk were incredible! Honestly, I would just have paid just to see Eddy! He looked remarkably like Jackson too!
The second half came with some of Jackson's biggest hits including Beat it, Smooth Criminal and my favourite song Dirty Diana!  The six vocalist's each performed different songs, some of the vocalists coming in on stage and singing different parts. To be honest, sometimes it got a bit confusing as to who was singing which part, as well as the dancing there, was a lot going on just one song alone. To be honest I preferred the songs where there would be one vocalist who could dance. I loved Smooth Criminal, Billie Jean, Black or White and the end song Thriller. All the vocalists were very talented and good singers. Britt for his beautiful soft voice and the way he moved like Jackson, Adriana for her very powerful voice, Shaquille for his Jackson like moves, Rory for his melow voice and Eddy for his mesmerising dancing.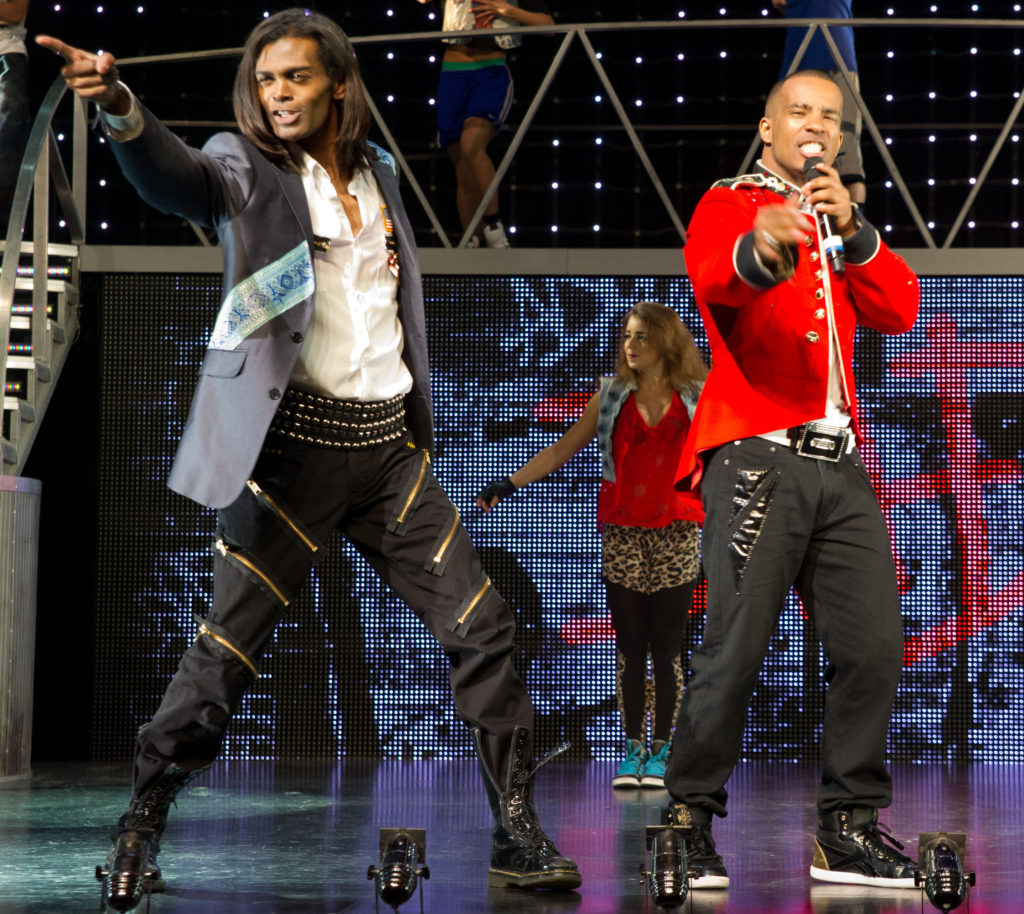 I loved the audience interaction in this production too. They had us jumping and dancing on our feet to classic Jackson songs. The two ladies a few rows in front were rockin' out as if the world was about to end!
I also loved the amazing Thriller Live band who played all of Jackson's hits. Well done Andy Jeffcoat and your band! My favourite bits in the production were when they came from behind the scenes to rock out with the audience. Allen Salmon and Rob Minns I loved your solos, I wanted to get up and rock out with you (even though I can't play) ha ha
If you are a  Michael Jackson fan, this production is for you. Plenty of audience interaction to get you rockin' to your feet. A mix of very talented dancers and vocalists that will have you reliving Michaels whole back catalogue of hits. Believe me, the ending 'Thriller' will not disappoint you!
Be sure to catch it this BAD production – only on until Saturday 24th February 2018 in Manchester – http://www.atgtickets.com/shows/thriller-live/palace-theatre-manchester/ 
World Tour Tickets including London – http://thrillerlive.com/