The 1930's wasn't a great time to be around after the Wall Street Crash of 1929 the largest stock market crash in American history, most of the decade was consumed by an economic downfall called the Great Depression that had a traumatic effect worldwide, leading to widespread unemployment and poverty, especially in the United States. Back then an economic superpower and Germany, who had to deal with the reparations regarding World War I which left them financially crippled.
After World War one and the great depression in the early 1920's. Germany economy became crippled with high unemployment rates and a high poverty rate. Even buying a single loaf of bread was very expensive for local people and times were hard in Germany. This situation eventually stabilised itself but because people had saw their lifesaving's gone over night there was a sense in Germany to 'Seize the Day' and enjoy every moment you may desire in the early 1930's.
However what they did to lighten the mood which is a form of theatrical entertainment using music, song, dance, recitation or drama to entertain the crowds usually at a pub, casino, restaurant or nightclub called 'Cabaret'. First appearing in France in the late 15th century and have produced hit shows ever since.
Berlin became heaven for first class perversions vice galore of wild dancing free love strip tease in Cabaret and good ole times of enjoying yourself.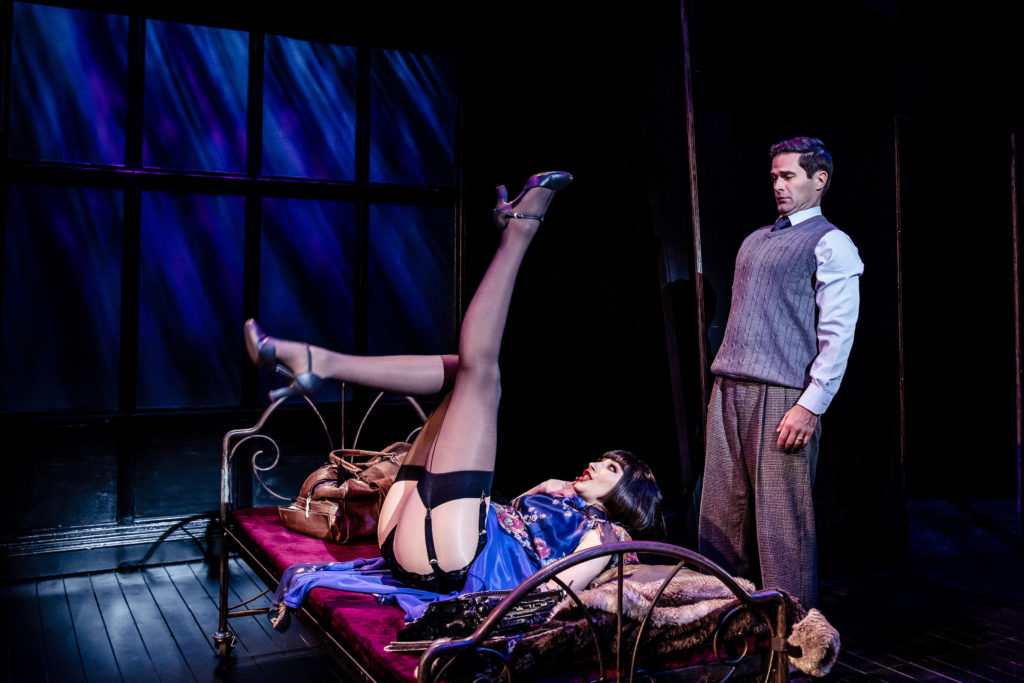 Cabaret the musical is an adaptation of a book by Joe Masteroff and then turned into a film in 1972 starring Liza Minnelli, Michael York, and Joel Grey. Which won over eight Oscars! The musical which started touring in 1966 has been touring for over 50 years too.
Last night Janine and I attended the opening night of 'Cabaret' at the Palace Theatre in Manchester. A story of sex, drugs and debauchery. I had heard chatter of its greatness and briefly knew the history but wasn't sure what sort of a ride I was in for.
Suddenly Emcee played by John Partridge appearing in the lettering in the stage entitled 'Will Come Men' appears in the 'O' and guides the audience through the show providing narration, singing, dancing and a cheeky bum here and there. John emulates that of a child catcher persona a dark, witty, sarcastic and reminds me of Frank-N-Furter from the Rocky Horror Picture Show, except darker and with a higher skill set.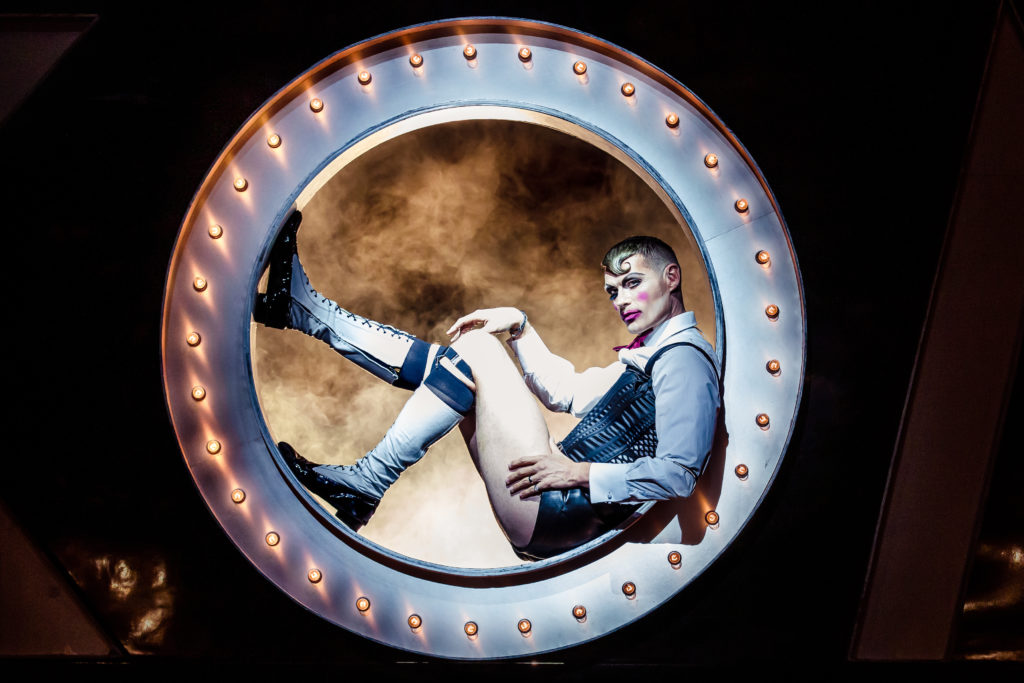 For me the show centralised around two characters Cliff played by Charles Hagerty, an American who wants to live Berlin and write his novel to take back to his American market and Fraulein Schneider played by Anita Harris. Both fall in love with other characters in the show and end up by circumstances politics and environment getting ripped away from their partners, which is really sad.
Both of the characters get caught up in the sex, drugs and the American Jazz scene more so for Cliff who meets Sally played by Kara Lilly Hayworth a Cabaret dancer, who completely turns his world upside down.
Highlights of the show included John's dancing and very dark humour his German accent was perfect and in parts where the story seemed to take a dramatic turn; he always seems to rock up dancing and smiling away and demanded the audiences attention even just by looking at him. This man was born for musical theatre, not surprising when you look back through his long career theatre and TV career. Remember him from Eastenders back in 2008? This role didn't even come close to how talented this man is !
Other highlights for me included the tenderness relationship between Fraulein Schneider (Anita Harris) and Herr Schultz (James Paterson) I loved their relationship and kindness to one another. Literally this would have been my happy ending if these too would have stayed together. They also have some really nice songs together especially in the second half. Very Talented.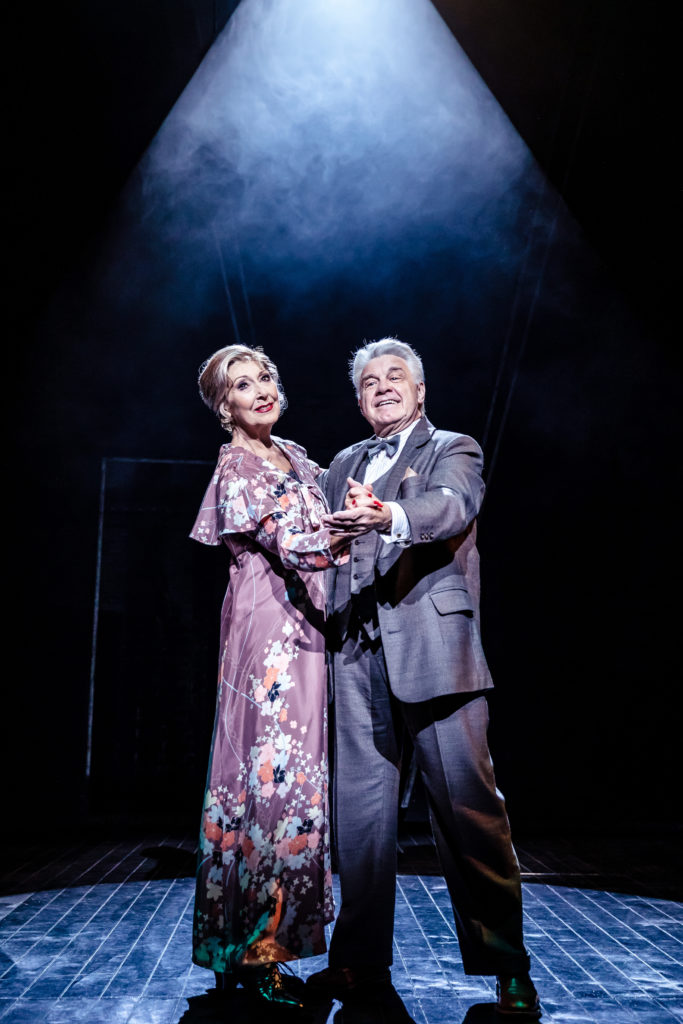 Loved the set design of Cabaret how it moved with the actors and very easy to set up, we didn't have to wait long at all for the scenes to change, very simple and yet effective with sliding doors and ladders and the opening set doubling up as the Berlin boarder of passport control.
A word of warning this leaves very little to the imagination sexually so prepare yourselves! Throughout the plot there remains a very dark undertone, which brings a very real twist at the end of the show.
This show definitely makes you think, I would say if I have to compare it other productions of a similar nature I would say 'Rocky Horror meets Hair' in different time periods; but similar in parts where they tell the story. If you are looking for some light hearted fun this is not your show. Cabaret for me is a political erotica, which will transform you into a completely different world and sympathise with the past.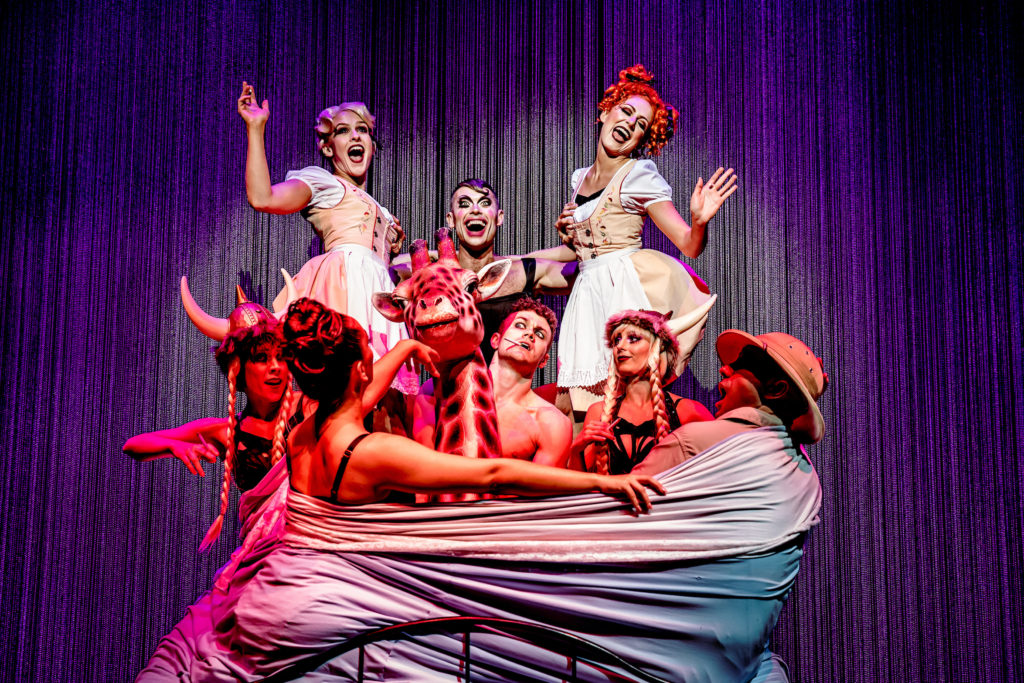 I can see why the show has stood the test of time. Very talented cast and creative and yes Bill Kenwright has produced yet another hit. A story of striptease, burlesque, drag shows, sadness and with a erotic mix a definite eye opener!
Go and see it now before it leaves Manchester from now until Saturday 29th February 2020
Score: 4/5
Tickets: HERE