In 1935 one of the biggest Rock N Roll Kings was born Elvis Aaron Presley in Tupelo, Mississippi in America. He was an identical twin brother to Jesse a stillborn baby. Ever since that day Elvis always felt he had two people inside of him and felt he had to work twice as hard to live for him and his brother.
His Debut came in 1954 recording at Sun Records with producer Sam Phillips who wanted to bring the sound of African American music to a wider audience. Elvis's first big hit came in 1956 with "Heartbreak Hotel" he would then go on to write and perform his own music which would change the course of rock and roll forever. He is one of the most celebrated and influential musicians of the 20th century. Commercially successful in many genres, including pop, country, blues, and gospel, he is the best-selling solo artist in the history of recorded music. He won three competitive Grammys, received the Grammy Lifetime Achievement Award at age 36, and has been inducted into multiple music halls of fame.
Credit: Elvis Memphis Presley
At the age of only 42 Elvis suddenly died of a heart attack in 1977 after years prescription drug abuse. Which left a gaping hole in the rock n roll world and a true icon which will never be forgotten.
Last night Katie and I attended 'This is Elvis' a tribute act at the Palace Theatre in Manchester. The part of Elvis played by Steve Michaels. Steve is an international award-winning tribute artist originally from Milton, Ontario in Canada. Katie and I were sitting having some food on oxford road before the performance a man walked past with jet black hair and looked very similar to Elvis past our window. Even before he had reached makeup and wardrobe he looked and walked like Elvis.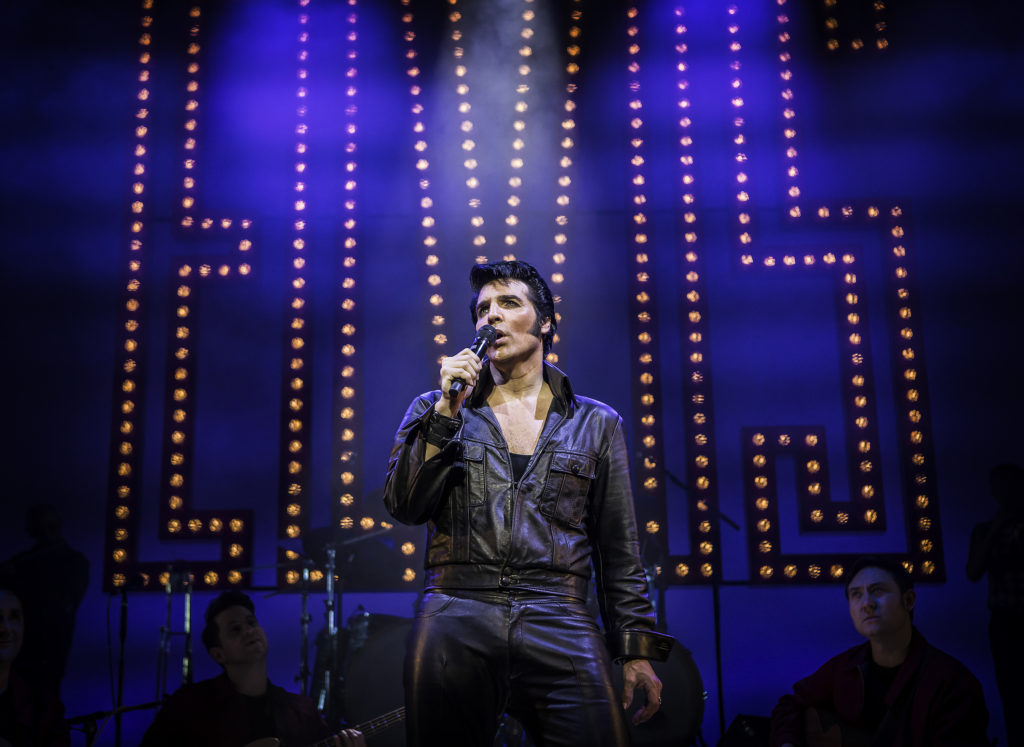 Credit: Pamela Raith
As the scene opened the story started in 1968 following Elvis's seven-year break from live performances. His Manager Colonel Tom Parker scheduled a television comeback special called 'Elvis' after he had just finished his run starring in Hollywood movies. Elvis rocked on stage and begin singing and playing Elvis's early music 'Trouble, Guitar Man, Love me' and also some of my favourite Elvis songs 'Hound Dog, All Shook up and Love me Tender'. Backed by a thirteen-piece band and singers, Steve really lit up the stage as Elvis.
The second half came with a dramatic entrance due to the success of the Television show. Elvis had now been invited to play a residency in Las Vegas. Which became highly profitable and successful and launched his official come back to performing live to large audiences.
Highlights in the second half for me included Steve's 'Always on my mind' where I felt he was singing to me personally haha.
My favourite song of the whole night was the last song 'Jailhouse Rock' which is a personal favourite of mine and because the whole audience were on their feet rocking out.
Other highlights included Benjamin Stratton played by Steve Binder who played this pink electric guitar rocking out for duet performances with Steve which I loved. He came to the front of the stage at certain songs and they both stood together. Steve Binders played and Steve Michaels sang the Elvis classics. Great moments.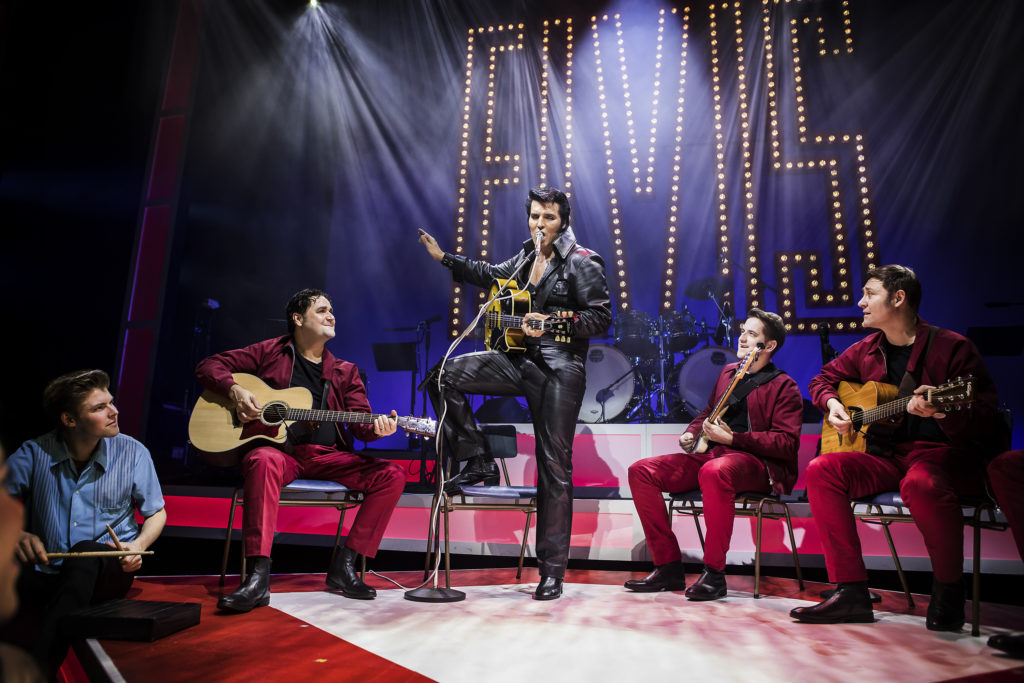 Credit: Pamela Raith
Highlights also included Steve's hip twisting and copying Elvis's iconic dance moves thrusting his hips towards the audience. So hard, in fact, one of his gold tassels flew off his white trousers into the audience, his snakes' hips had a mind if their own. Steve's timing on the songs were impeccable and for an artist to perform well over an hour and a half, truly had great stamina and skill.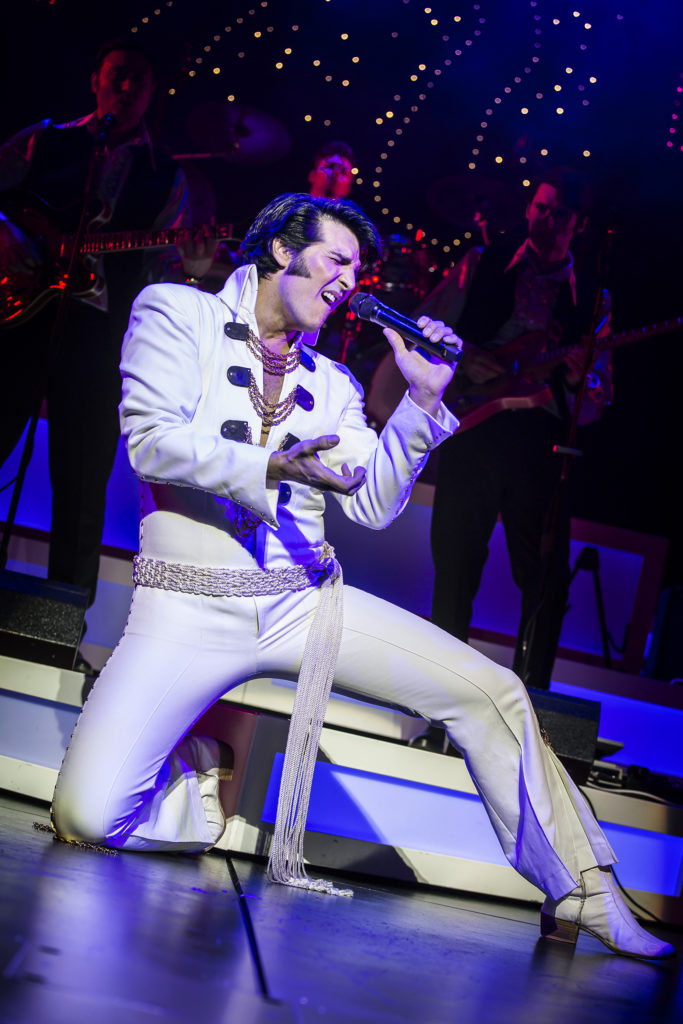 Credit: Pamela Raith
A fun-filled musical with great sets and very talented musicians. Well done Steve too, you made a fantastic Elvis. I am sure the real King would be proud of you! Uh-huh-huh!
Tickets: here 
From today till Saturday 16th June 2018
Another great musical directed by Bill Kenwright and Laurie Mansfield.