I am a big fan of Kay Mellor she has directed and written some of Britains best-loved TV series including Band of Gold, The Syndicate and Episodes of Coronation Street. She is very experienced and a northern girl through and through, who grew up in Leeds in the United Kingdom.
This Play is set in Leeds in Headingley called 'Fat Friends'. The story is about a girl called Kelly played by Jodie Prender, who is about to marry her hubby to be Kevin played by Andrew 'Freddie' Flintoff. (The legendary cricketer) Her mum Betty played by Sam Bailey is a current member of a Superslimmers club ran by Lauren played by Natalie Anderson. Betty has lost five stone and after a disastrous wedding dress fitting with Kelly for her upcoming wedding to Kevin. Betty and Lauren encourage Kelly to join the slimming club to lose weight to get into her dress. The script for Fat Friends is amazing exactly like what the team leaders say at the groups. Janine and I were laughing our heads off throughout the entire production.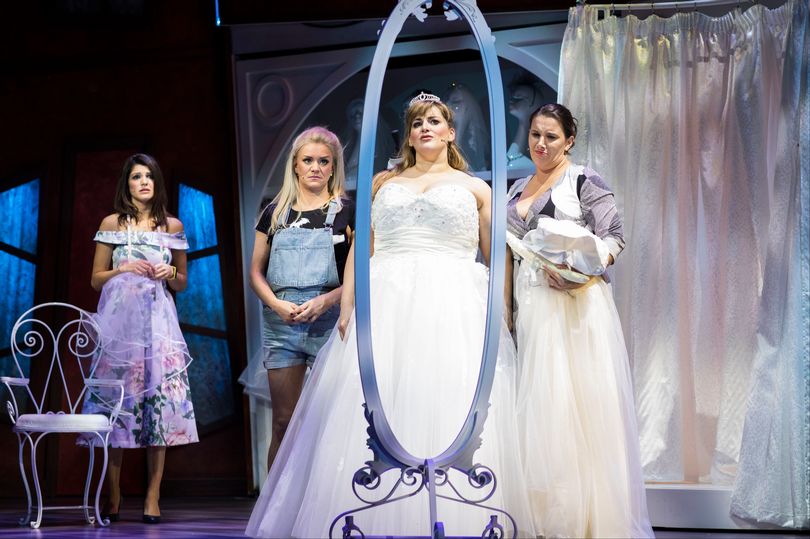 Credit: Helen May
The vocals were also good especially from Betty played by Sam Bailey (former X Factor star) and a highlight for me was the duet between Lauren and Paul played by Natalie Anderson former Emmerdale cast member and Jonathan Halliwell. Their song "Mr Someone" was a lovely duet about looking for a partner and eventually finding each other. Very sweet song.
The story continues as the lead Kelly is convinced by the Diva of the show Julia Fleshman played by Natasha Hamilton (former band member Atomic Kitten). That if Kelly loses the weight, the hard-nosed head of Superslimmers Julia will pay for her wedding! Pressure is on for Kelly to lose weight in 6 weeks to fit into her dress! Ekk! I think the special element of this production is for me I think every woman has gone through these feelings overweight, sluggish and the pressure to get fit again. The overall message from Kay Mellor the writer is to be you, to love your curves and no matter who you are most people don't really like the way they look. Kay brings a feel-good atmosphere in the script and songs of girl power and too feel good about yourself no matter who you are!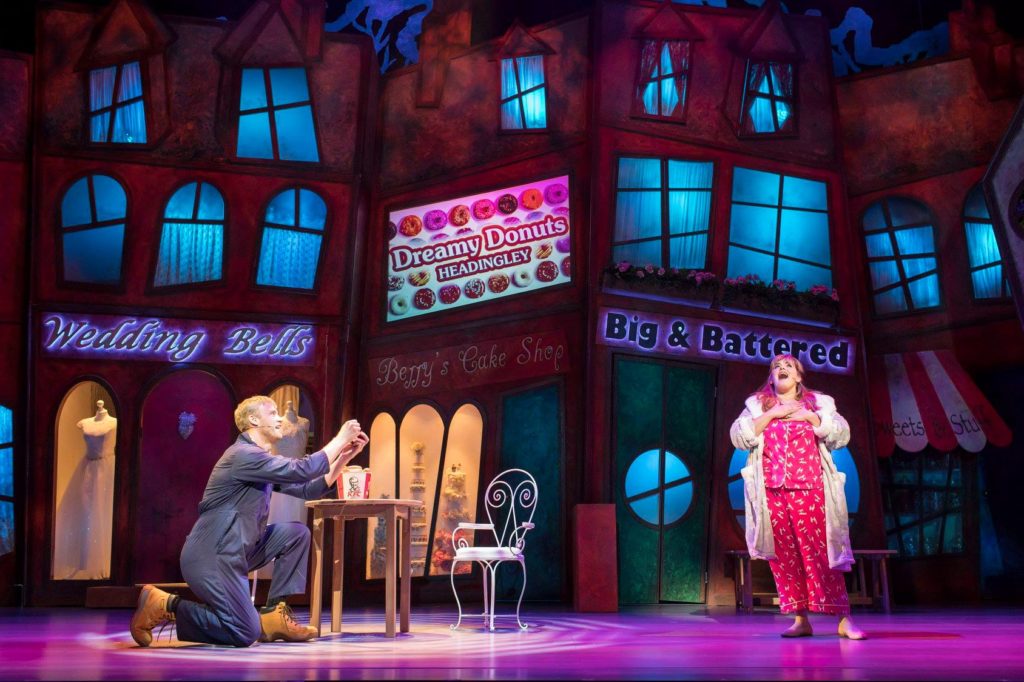 Credit: Helen Maybanks
Nick Lloyd Webber also does a fantastic job as the composer and the musical timing is excellent! Who would know too that Kevin played by Andrew Flintoff could actually sing! Particularly in the song "The fool is only me"
Another highlight for me was the song 'Chocolate' who the lady in the slimming clubs compares Chocolate to healthy fruit. Let me tell you there is no comparison to be made! I have said this myself as a slimming club member haha. The dance and the song are absolutely hilarious with stripping, chez-long and giants chocolate bars. (need a say no more) This was our favourite part of the show! Comedy timing aldo goes to Joanna/Pippa played by Rachel Wooding who plays Kelly's sister. Your timing was perfect!
I must mention Fergus played by Kevin Kennedy who played Kellys Dad. (I remember him as 'Curly Watts' in Coronation Street back in the day) Had a lovely singing voice and his scenes with Kevin played by Flintoff were particularly funny! As Kevin kept calling him a 'Twat'. Kevin plays a large doopy character who has an adorable lovesick attitude towards his bride to be Kelly. Plus Kevin is gorgeous to look at too. The scene where Kevin comes out on his stag do with those big horns on his head is adorable and had most people melting into the Opera House seats!
Credit: Helen Maybanks
Janine and I also loved the final song "Get on your Feet" which all the cast came out dancing and audience singing and dancing away out of their seats.
Honestly, this really is an excellent piece of writing and directing! Well done Kay Mellor. The Music on point too with the script from Nick Lloyd Webber. A light-hearted laugh out loud production, that will have you reminiscing about your own past and experiences!
Excellent cast and fantastic humour and singing.
Good and book this now! It will have you coming out buzzing!
The production runs until this Saturday 24th March 2018. 
Tickets – http://www.atgtickets.com/shows/fat-friends-the-musical/opera-house-manchester/