Last night Jenna and I attended the press night of 'Of Mice and Men' set in the early 1930's in California tells the story of two men trying to earn there keep in the great depression in America. Written and published in 1937 by author John Steinbeck. George Milton and Lennie Small are two ranch workers who keep moving from place to place in search of new job opportunities. George played by Richard Keightley an intelligent man and Lennie played by Matthew Wynn a strong rock of a man but mentally disabled and relies on George to help him through life. The two have a special friendship which at times quite powerful and dramatic. However, Lennie is completely reliant on George to get him through everyday life, which at times George can feel quite bitter about because he knows how much freer he can be without the liability of Lennie to look after.
I remember studying this book at GCSE level when I was around 16 years old in my English Literature class. I remember how important the character development was in the plot lines.  The casting for this production was absolutely spot on. Everything I imagined the characters to look like and be, exactly the same as the book. Crooks played by Kevin Mathurin was one of the favourite characters his portrayal of Crooks from the book was excellent. Well done Victoria Roe (Casting Director)! Although as a side note I would have written in the big letters what the book he was reading in the second half (the book of rights) as I think this is important to his character.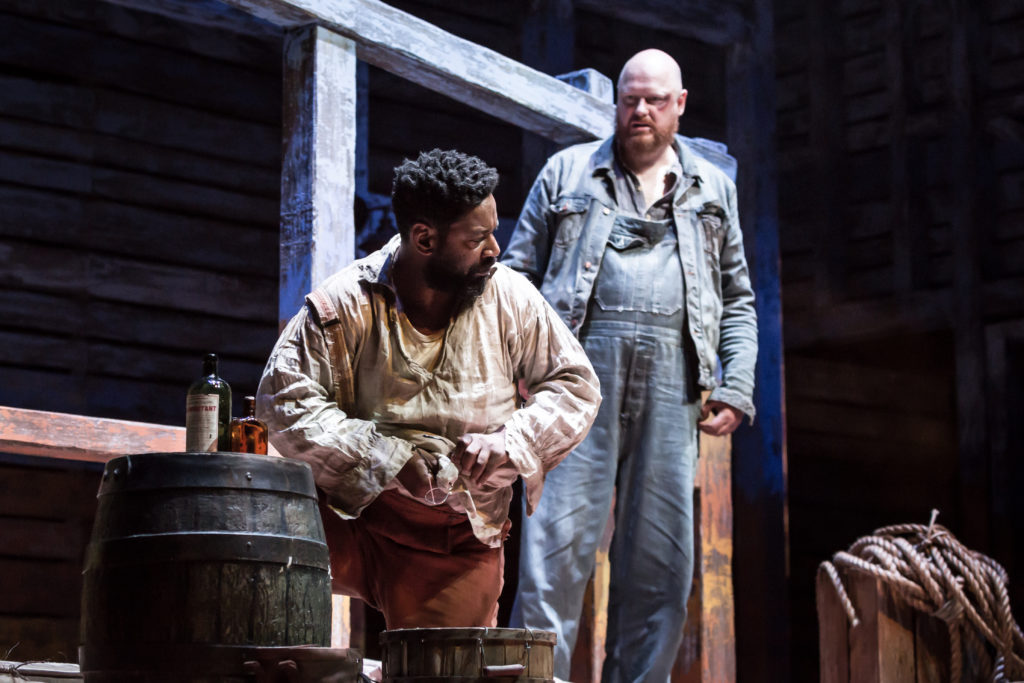 Credit: S Rylander (Crooks and Lennie)
The production for me was at times intense, poignant and powerful. The relationship between Lennie and George is honest and heartwarming. Their on-stage chemistry as friends is beautiful to watch and you really invest as a viewer into both of their characters and end up sympathising with Lennie's character a lot, so much so you want to jump on stage sometimes and give him a big hug. Especially when he first meets the bully Curly played by Kamran Darabi-Ford. A short guy who has anger issues with big guys like Lennie. He knows that he can get away with bullying him till it goes too far and Lennie on George's instruction ends up breaking Curly's hand because Curly starts a fight with him. I think relationships like this reflectent upon real life today. Where from as young as school children bully other children because they might look or act differently to them. This scene, in particular, brought back some not so nice childhood memories for me.
Highlights characters for me included Candy played by Andrew Boyer who plays an ageing ranch handyman with his dog who is 'old, stinky and crippled'. He is exactly like the character in the book, unappreciated and strong-willed about certain issues. Without completely ruining the plotline for you, the scene where Carlson played by Darren Bancroft shoots Candy's dog because he is old and smelly is horrific. He takes the dog outside and we are all nervously waiting in the audience for the gunshot, the build-up takes ages and eventually when we do hear it I jump out of my seat. Poor Candy! 🙁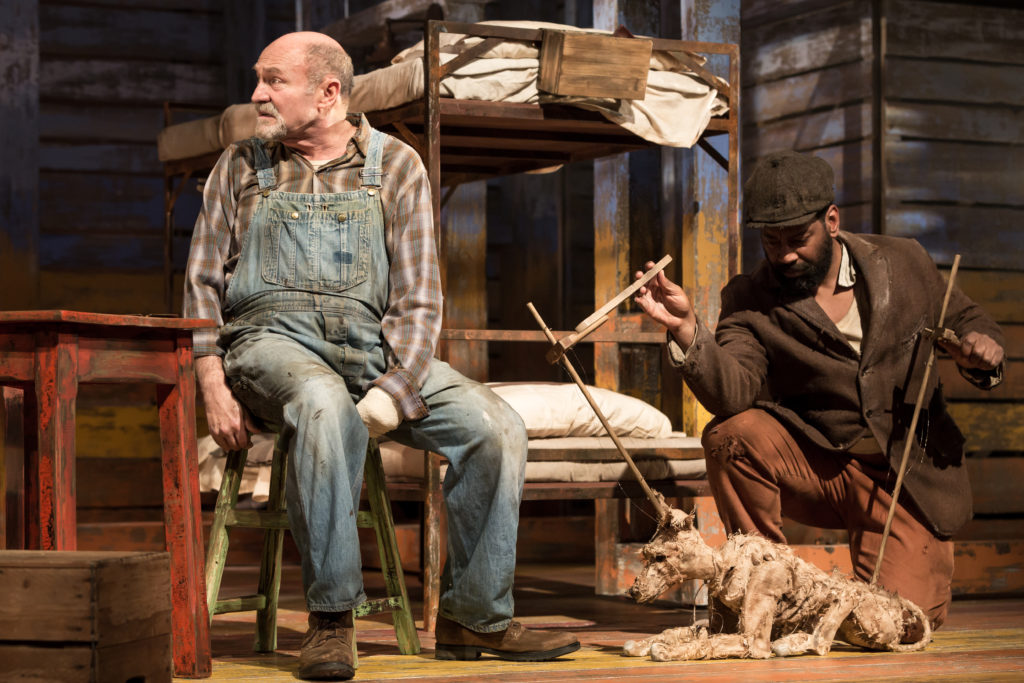 Credit: S Rylander (Candy and his Dog)
The costumes were perfect for the period old, tatty and worn, I loved the moving sets. Very simple yet effective. Well done David Woodhead! The accents were also fantastic too and all of the characters kept on point with them, great work Nick Trumble (Voice and Dialect Coach)
We also enjoyed watching Curley's Wife played by Rosemary Boyle again brilliant casting. Exactly like how the book describes her.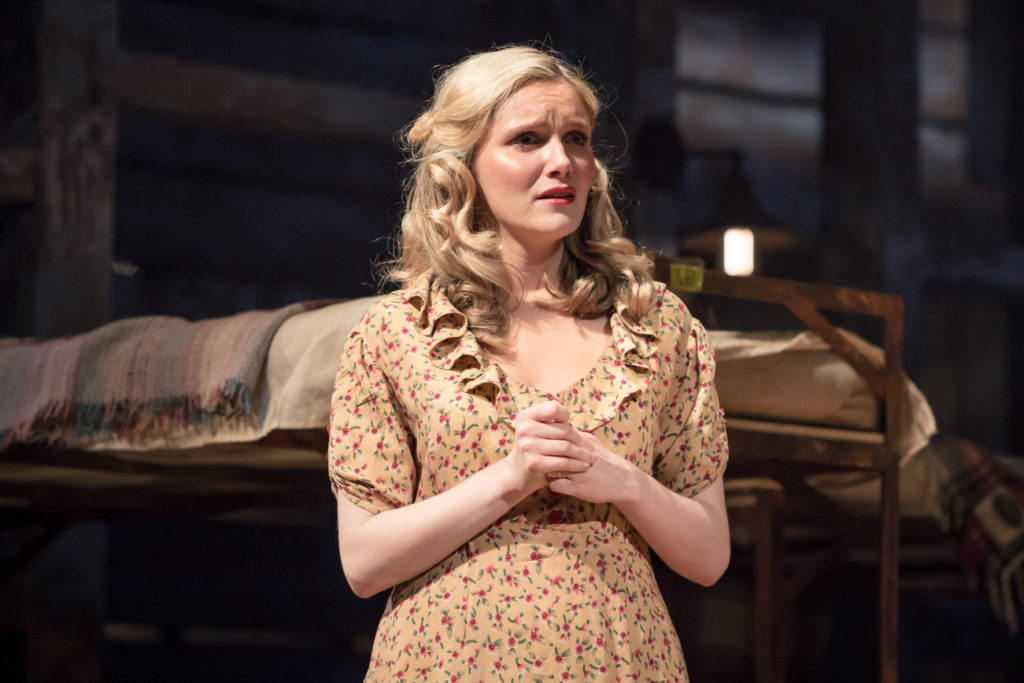 Credit: SRylander – Curleys Wife
Overall Jenna and I enjoyed the production 'Of Mice and Men' the storylines at times very dark and powerful. With actors having very long dialogues at times. Jenna and I thought the acting was excellent. This play isn't for everyone though, it's intense, sad and poignant. However, a glimpse of reality to see what it was like to live in California in the great depression in the 1930's.
If you want to see a production with an incredible special friendship, heartache and drama this is a must see. Well done Cast and Crew, the intense direction from Guy Unsworth were clearly present here. It also got you thinking about different issues as you left the theatre.
The production is on until Saturday 14th April 2018 in Manchester then continues its tour around the United Kingdom.
Tickets: http://www.atgtickets.com/shows/of-mice-and-men/opera-house-manchester/
Later on, I interviewed some of the cast check it out below! George (Richard Keightley) and Lennie (Matthew Wynn) ?