Another wonderful red carpet press night hosted by Ambassadors Theatre Group at the Palace Theatre for Hair the musical. As it hits its 50th Anniversary tour the production itself has won various Tony and Olivia awards, I had high expectations of the production. The anniversary tour is led by Dancing on Ice champion Jake Quickenden as Berger; Hollyoaks actress Daisy Wood-Davis as Sheila and X Factor 2011 finalist Marcus Collins as Hud.
The cast is completed by Aiesha Pease as Dionne, Alison Arnopp, Bradley Judge, David Heywood, Kelly Sweeney, Laura Sillett, Louise Francis, Natalie Green, Paul Wilkins, Spin and Tom Bales.
Mum and I attended last night press night of Hair the Musical last night. My mums birthday was yesterday and she was a sixties child. She was 18 years old when 'Hair' first came out. We were both eager to see how the production would portray the issues.
Set in New York City the show is a product of the hippie counterculture and sexual revolution of the late 1960s, several of its songs became anthems of the anti-Vietnam War peace movement. The musical's profanity, its depiction of the use of illegal drugs, its treatment of sexuality, its irreverence for the American flag, and its nude scene caused much comment and controversy. Hence winning so many awards due to its shock value and controversy. Today I feel that due to the revolution of the internet we have a generation have to change there isn't much out there that shocks me, nothing that cant be found on apps like Instagram (nunity) and the generation of free love (dating apps like Tinder) So for me the shock value has really been taken out of the production. This has now become the norm in our generation.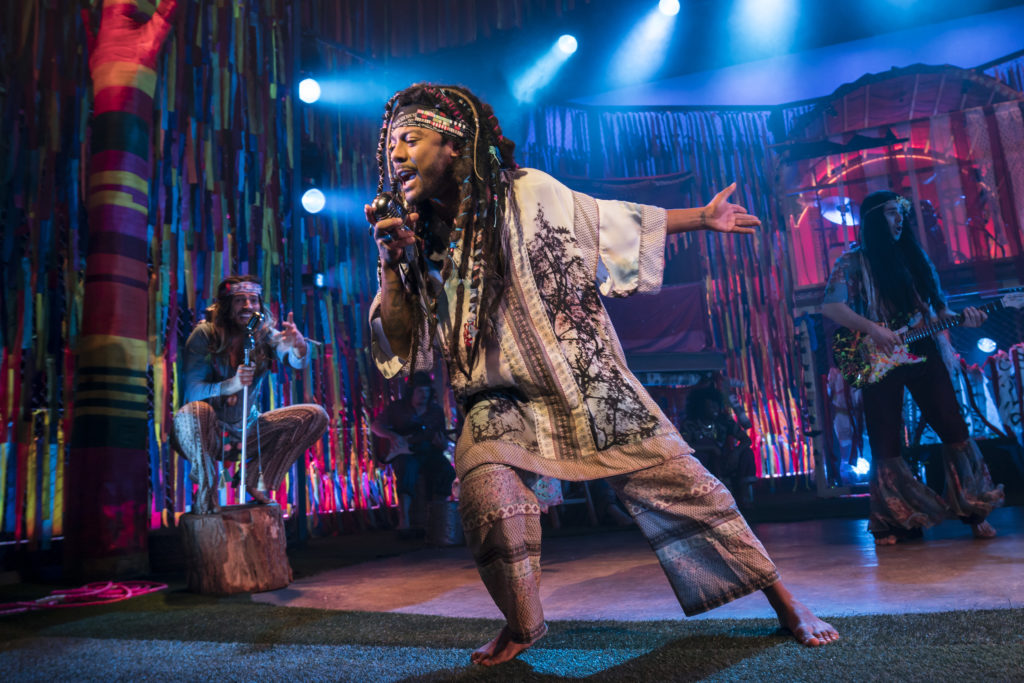 The cast are upbeat and bursting with energy like fresh gazelles jumping around the stage. Powerful voices from Jake Quickenden and Paul Wilkins and also lovely solos from Daisy Wood-Davis. For me though despite the cast being insanely talented; the production lacked a strong storyline. The scenes seem to drift from one song to another without proper inductions to the cast (especially at the beginning)
Visually the stage looked wonderful bright colours, well done Maeve Black and the band were positioned on stage permanently. I did tire of this though and would have like a different set especially as the story headed away from New York in some scenes.
I also felt like some parts of the production I had no idea what was going on. Yes, I understood the hippie generation took loads of drugs especially LSD which alters your mind and trips you out; but I felt these scenes lasted way too long and again sometimes you didn't know if the cast were performing in the modern day world or simply just off their nut?!
I think for me what the show lacked the most is a strong storyline and I felt at some parts the cast were singing the songs so fast I had absolutely no idea what they were saying. Which for me was a crucial part of me enjoying the production, because I want to know the characters and understand them in order for them to take me on a journey.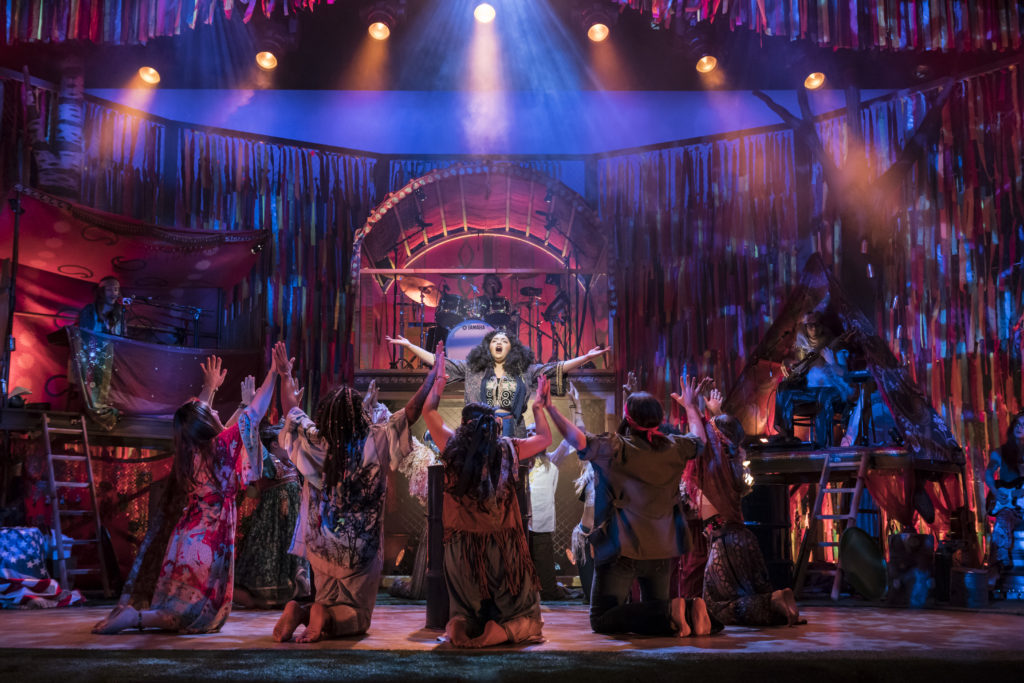 They did have the songs Aquarius, Let the Sun shine in, Good morning sunshine and hair which we did enjoy. Powerful songs with dramatic endings.
Understandably this production was a crowd pleaser and Jake Quickenden's bravery wearing not much but a thong was a nice addition. His high octanne energy with the audience was very funny too. Plus the whole cast did strip off completely in the first half which is incredibly brave so well done for that!
Even though this production wasn't for me, I understand why people like it.
Its on at the Palace Theatre till Saturday 13th April 2019.
Thank you to ATG & the production for hosting a wonderful red carpet press night followed by a glamorous after party with the cast and crew we really enjoyed it.
Tickets are available here