Last night I attended the much-anticipated disco party of 2018 Disco Classical at Victoria Warehouse. Disco Classical featured Disco artists like the amazing Sister Sledge and the amazing Manchester Camerata infusing modern disco with classical.
Disco classical is a show where you can watch and listen to the best-loved most iconic disco tracks from past to present performed by a 35 piece orchestra, a DJ and singers live on stage. CHIC, Everybody Dance, Jamiroquai Cosmic Girl and Prince I Wanna be Your Lover were just some of the highlights on the night.
A bit of Backgorund about Sister Sledge –
In 1972 in Philadelphia, Pennsylvania a little group formed called Sister Sledge made up of four sisters called Debbie, Joni, Kim and Kathy Sledge. The siblings achieved international success at the height of the disco era. At the peak of their success, they sold Gold and Platinum records, accumulating total sales of over 15,000,000 worldwide.
Their biggest selling records include the classic songs 'We are Family, Lost in Music and He's the Greatest Dancer'. Which if you have ever been to any wedding, family event or party these classic tracks will almost definitely have been played.
When I heard Sister Sledge had teamed up with the wonderful Manchester Camerata Orchestra I felt excited at the prospect.
To get us started Liverpool DJ Mark Armstrong came on to warm the crowd up together with some wonderful vocal singers playing everything Disco! Followed by the wonderful Mic Lowry five lovely guys  British vocal harmony boy band from Liverpool singing pop, contemporary R&B and soul music.
As Smooth Radio announced Sister Sledge coming on to the stage the crowd was deafening. Truly a packed house at Victoria Warehouse in Old Trafford, Manchester. The true original Sister Sledge Sisters are both in their 60's now and honestly, they look amazing! They look about 30, Debbie and Kim. They also had a third member of the band on stage Tanya Tiet. Tanya who has been touring with Sister Sledge since 2012 fitted perfectly into the vocal group.
The stage lit up as Sister Sledge came on! They looked fabulous all dressed in Black with beautiful silver glitter boots and shoes on. Kim had a hat on like Michael Jackson which he would have worn back in the day and she had a lovely charm about her.  They spotted an audience member with a flashing disco hat on and they invited him on stage to dance with them. 'Steve' came up and danced on stage with the sisters and the Manchester Camerata the crowd loved it and they were shouting 'Steve, Steve' ha ha.
Highlights for me included 'Lost in Music' when Victoria Warehouse puts the big disco balls on the ladies singing plus the backing of the orchestra the music sounded incredible. Something about watching an orchestra playing with very talented vocalists is actually quite emotional to watch and hear because it really is so beautiful and soulful. Together with Sisters Sledges amazing soulful energy!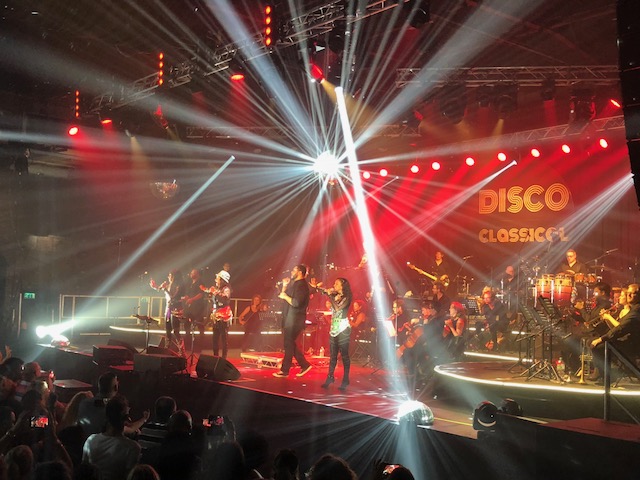 They played performed their classic hit too 'We are family' and the crowd was buzzing!!
After the show, I spoke to the ladies about their amazing performance and this is what they had to say, check out an exclusive too from them:-
They all had a lovely soulful energy about them and plus I loved that the closest people around them were actually family. Joni's son and Kim's son were part of their entourage and really made the band feel extra special. Their classic song 'We are Family' is certainly true.
Lovely to meet you, ladies, thanks for a spectacular night and our wonderful Manchester Camerata!
Its a 5 Star from us! Congratulations Disco Classical whats an awesome event!
Disco Classical the event has been fantastic featuring artists like Sister Sledge and the Manchester Camerata was a perfect mix of music heaven. Who knows what the makers of Disco Classical have planned next but be sure it will be spectacular just like tonight was.
Keep your eyes peels for more of their events. Check their Facebook page – https://www.facebook.com/DiscoClassical/