Without question, Laurence Stephen Lowry is one of the greatest painters of all time. Known for his realism in his art which drawings and paintings depict Pendlebury, Lancashire, where he lived and worked for more than 40 years, and also Salford and its surrounding areas. What makes his story even more special he lived about ten minutes from where I live now and from what is known about him seemed quite a humble character.
Last night we attended the Gala Premiere of Mrs Lowry and Son which made it debut at the Lowry Theatre which opened nineteen years ago as a tribute to the painter. The cinema screen was held in the theatre will full cast attendance Timothy Spall playing Mr Lowry and Vanessa Redgrave played by his mother plus the Director Adrian Noble. With a high profile audience to match!
The film mostly set in a terraced house in Pendelbury in 1934 an oedipal drama about a close relationship between mother and son, a relationship which could have ultimately cost him into giving up his passionate and his gift of art. He thinks the world of his mother and despite her constantly putting him down also dealing with his own inner demons deciding whether his good enough and if his mother will one day accept his art work that he has painted for her.
His father died in 1932 leaving Lowry and his mother buried in debt which forces them to move from the eloquent middle class leafy suburb in south Manchester to a working class northern town in Manchester. Much to the resentment of his mother who constantly reminds him that they are not meant to be in Pendlebury and living amongst the working class. Surprisingly though if he hadn't of lived in the area would he of been inspired by industrial landscape close by which he worked through every day as his day job as a debt collector? Timothy and Vanessa portrayal of Lowry and her son is ultimately convincing and really pulls you in on a deeper level. Mainly a deep sympathy for Lowry himself who seems to have been stuck with his mother for the rest of his life who is negative and highly critical of his work and actions, even saying at times "I didn't want you, why were you here" which for any child must be deeply upsetting and cause you to feel resentment.
Tim's empathy towards the character and his mother draws you in as an audience and helps you to really understand the characters.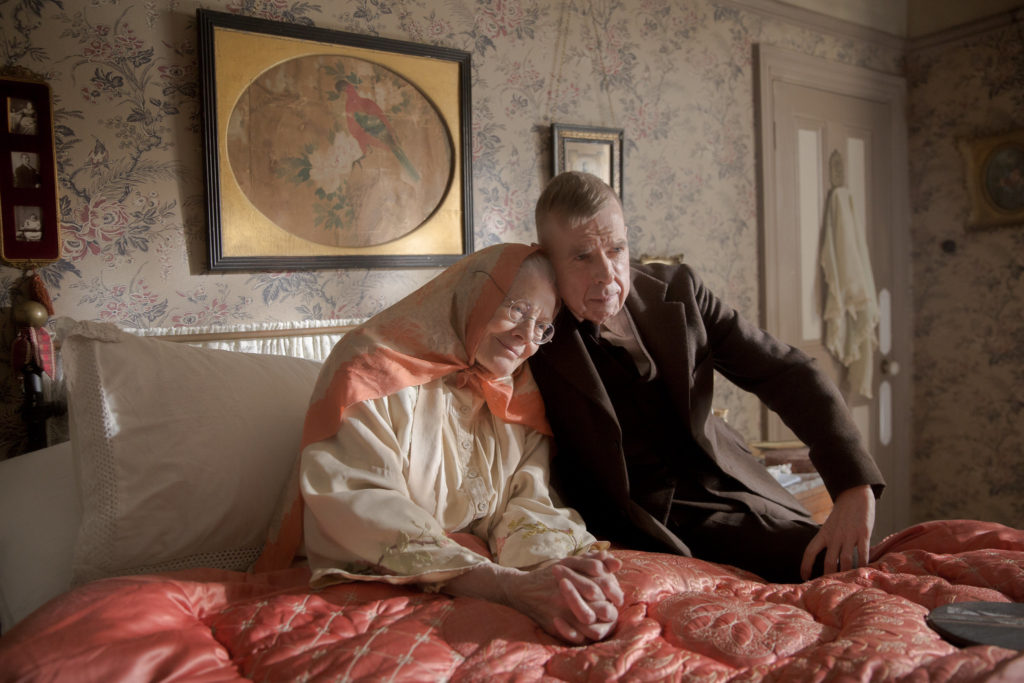 Credit: Mrs Lowry and Son
Even after his mother's death in 1931 Lowry rejected five honours during his life, including a knighthood in 1968, and consequently holds the record for the most rejected British honours due to his mother not being alive to see it, shows how much he loved his mother and that there relationship meant everything to him. Tim and Redgrave personified this relationship perfectly, which I believe only can be achieved with experienced actors is really a turmoil of ups and downs with a very complicated relationship between mother and son.
Although changes of sets are very few (mainly Mrs Lowry's bedroom) It seems to work partly due to the excellent writing by Martyn Hesford, the complexity of the characters and experience of the actors. Excellent casting by John and Rus Hubbard!
I must see for a glimpse of Lowry's artwork and relationship which led him to one of the most famous painters in the world, considering the circumstances he grew up in.
During his life Lowry made about 1,000 paintings and over 8,000 drawings. Today some of his collection can be viewed at Salford Quays Theatre which has 55 of his paintings and 278 drawings – the world's largest collection of his work – with up to 100 on display.
I loved his quote from the film "I am simply a painter, nothing more nothing less" showing his humble beginnings.
I would like to thank the Lowry theatre and PR team for a lovely Gala night!
The films official release is this Friday 30th August 2019, which I recommend highly. It's a 5 star from me "Humorous, Dark and Powerful!
Available nationwide in UK cinemas from Friday.
Review by Amy Parkinson