Never really been a big fan of Oasis. They have produced some decent tracks which I listened to as I was growing up (Wonderwall, Don't look back in Anger & Roll with it) I remember being on a bus on a high school trip (Alsager High School to Austria) & one of the lads on the bus had their album on a cassette tape (yes I am old ha ha) and their songs playing over and over on a 14 hour bus trip. I was only about 12/13 years old then and abit of a tom boy, so if the lads thought Oasis were cool then I did.
When I heard the Oasis exhibition (Chasing The Sun 1993 to 1997) were coming up to Manchester from London, I thought I had to visit. I thought they might have some cool guitars from their tours on show. Maybe some photos from the retro 90's.
The day came; my friends were hungover or too drunk from the night before. As I am doing a 'dry year' for charity I was neither of those. So I headed down.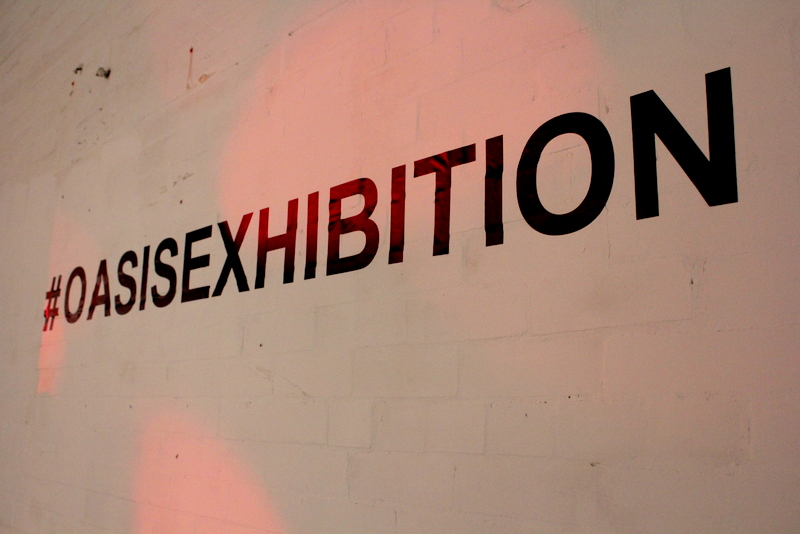 Well I wasn't disappointed...
The exhibition was at Old Granada Studios on Quay Street Manchester. Which in itself is a cool venue and has plenty of nostalgic moments when I worked at Granada for the  studios. (Stars in their eyes, Question of Sport, Question Time & Coronation Street were some my favourite's I was lucky enough to work for)
As you walk in past the old ITV reception you're taken into the old 'Granada reports' studio.  You immediately see the professional photos of the band and amazing guitars were displayed on the wall.
The photo below is one of my favourites (description underneath)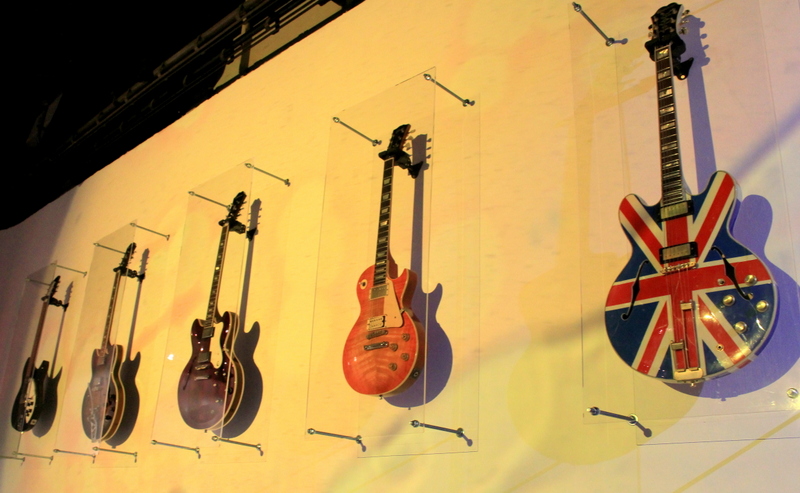 from left to right:
**Noel's Black Rickenbacker 330 featured on the floor on the cover of debut single Supersonic.
**Noel's Brown Epiphone Rivera featured on the cover of Definitely Maybe, leaning against the window.
**Noel's Burgundy Epiphone Riviera used on the Definitely Maybe tour.
**Noel's Sunburst Gibson Les Paul used on the Definitely Maybe tour.
**Noel's iconic hand painted Union Jack 60's Epiphone Sheraton which made its first appearance at the Maine Road show.
You got to agree these are impressive, cheer Noel 😉
My favourite bits about the exhibition were seeing the hand written lyric's on pieces of paper. This for me gives it a sense of realism, that someone sat down and wrote an iconic song like that in just a few hours.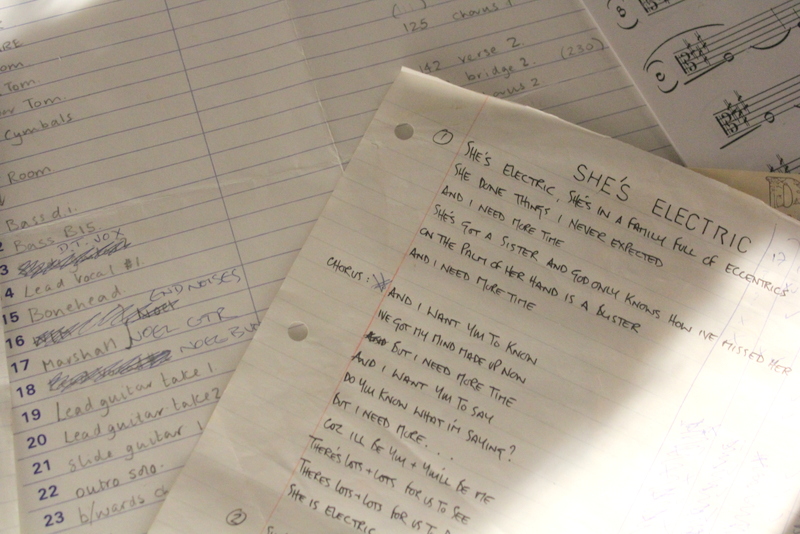 I also loved seeing the replica Adidas trainers that the band pretty much lived in all the time.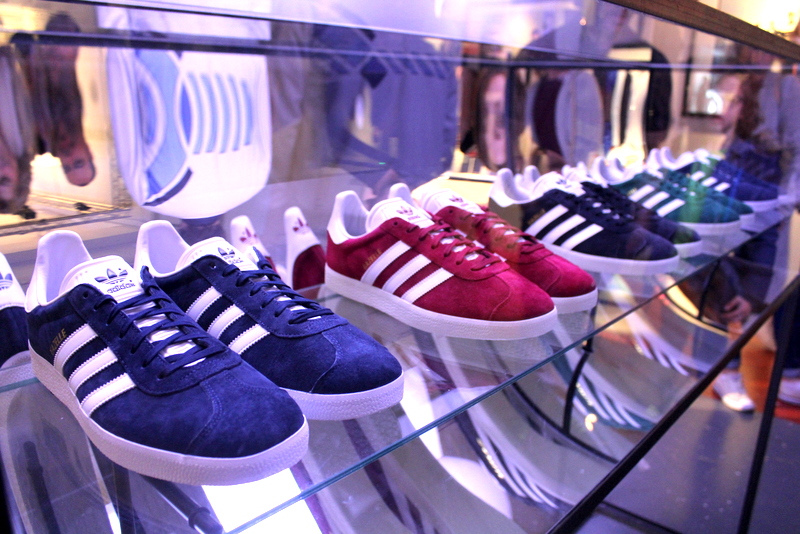 The overall best bit for me was recreating the cover of 'Definitely Maybe' a life size replica of guitarist Paul 'Bonehead' Arthurs' West Didsbury living room, where the iconic image was shot for their 1994 debut album, together with a display containing many of the original props. I loved this bit and I actually felt like I was there 🙂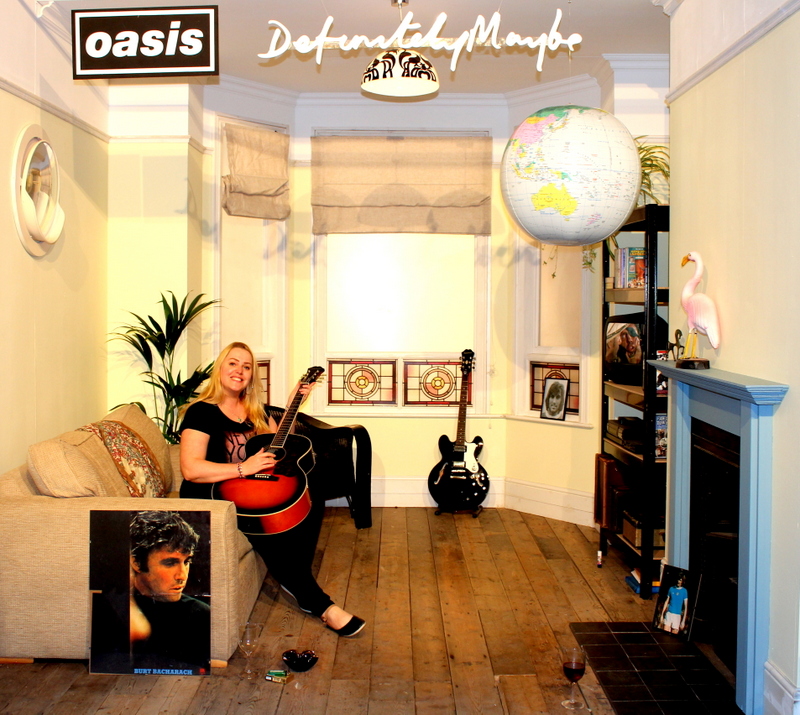 The Manchester exhibition is the last day today (14-25 October 2016) for those people who didn't quite get the chance I am saving you the queue time by sharing my review.
If it comes back you must go and see it!
Their overall all success is overwhelming. Selling 77 million record worldwide & 7 studio albums not bad for a few lads from council estate in Manchester! They are about to release a film from the producers of the 'Amy' Winehouse movie. Sort of an observational documentary on the band, comes out 31 October 2016 on DVD 'Supersonic' Here is the trailer:-
Even though I have never been a big fan of them, I really enjoying viewing all of their memorabilia. I completely underestimated how big they really were.
Here are some of the cool photos taken by their friends of the band, which I think completed summed them up and what it is to be a true mancunion. Enjoy!