The last few years have rocked my world and not in a good way. I created this website to use a positive tool; to review, write and share great experiences of our captivating cities within the world and the United Kingdom.
Last month, Manchester Arena fell victim of a horrific terrorist attack when on the 22nd of May a 22 year old extremist murdered 22 beautiful innocent souls including children, by letting off a bomb at the arena. It was reported that 14,200 people were at the concert to watch Ariana Grande (an american singer with a very young following).
I was visiting one of my best friends in the city centre at the time. She was on an overnight stay from Dubai to Mexico; her accommodation just a mile away from the arena.  I received a text from a good friend of mine asking if I was OK. Confused, I turned the news on and watched as one of my worst fears had turned into reality.
The very next day the newly elected Mayor of Manchester Andy Burnham held a vigil to pay respect to the victims who had lost their lives. (see photo below by Manchester Evening News)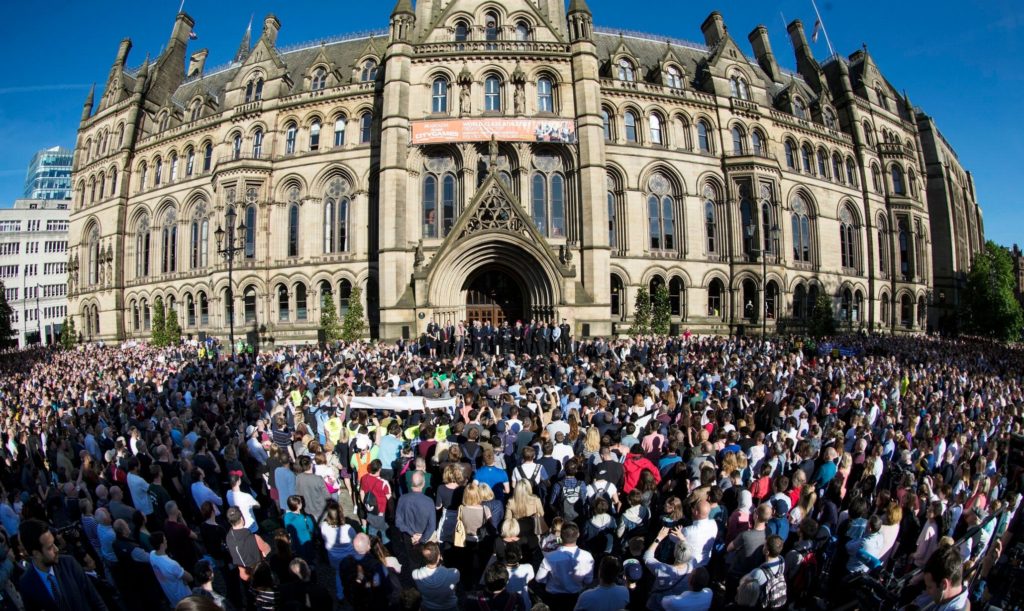 They lit 22 candles as a sign of respect. They also asked an established poet to write and read out a poem about Manchester. He read out his poem 'This is the Place' which took the crowd from silence to laughter with an eruption of cheering at the end as he finished with the words 'Choose Love'.
I cried my eyes out at the television as the fact that I was a mere ten minutes from the city centre finally struck me. Tony summed up all that was positive about the city; from our spirit, culture, music, history, character, sports, and our love of football; we were reminded of all the things that defined the city's greatness.
This is his performance:
Amazing!
Manchester City Council also set up a memorial site at St Anne's Square where the victims' families and anyone who wanted to pay their respects could visit the next day. A few days later the flowers, tributes, cards and teddy bears quickly turned into a collection of 4,000. I went to visit it myself and this is what I saw: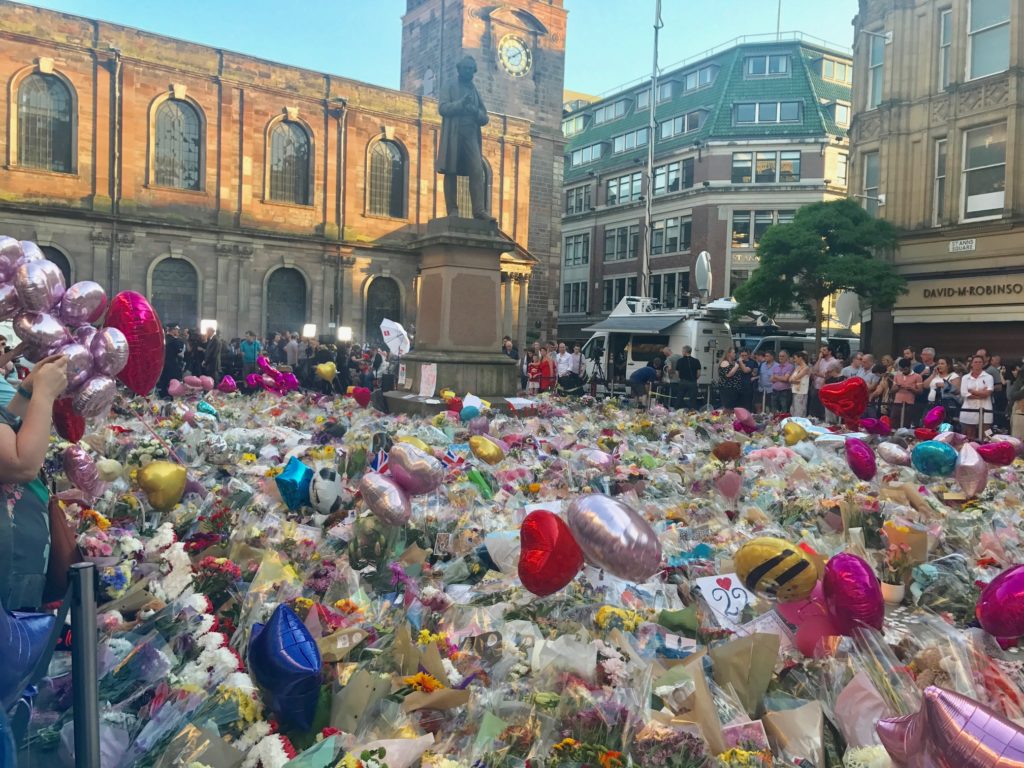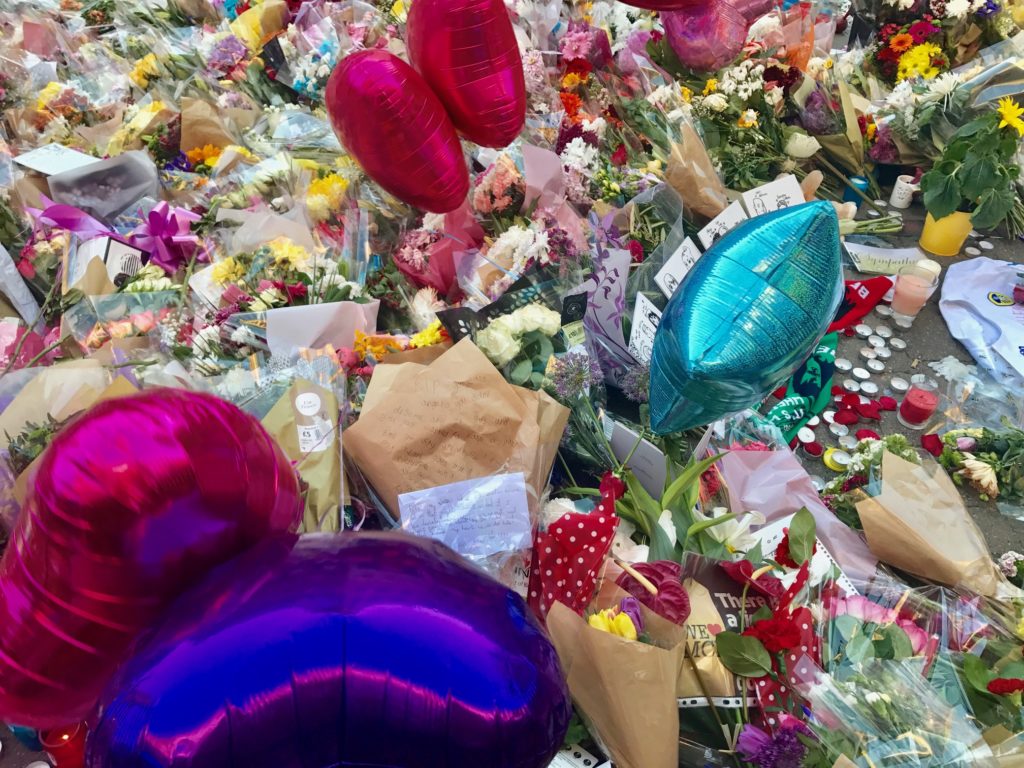 As I stood watching and obviously feeling very emotional, an older gentleman stood next to me. He was frantically looking for tributes for Eilidth Macleod, who was only 14 at the time of her death. He had brought flowers for her and he was sobbing. We spotted some cartoons with her name on and I pointed them out to him.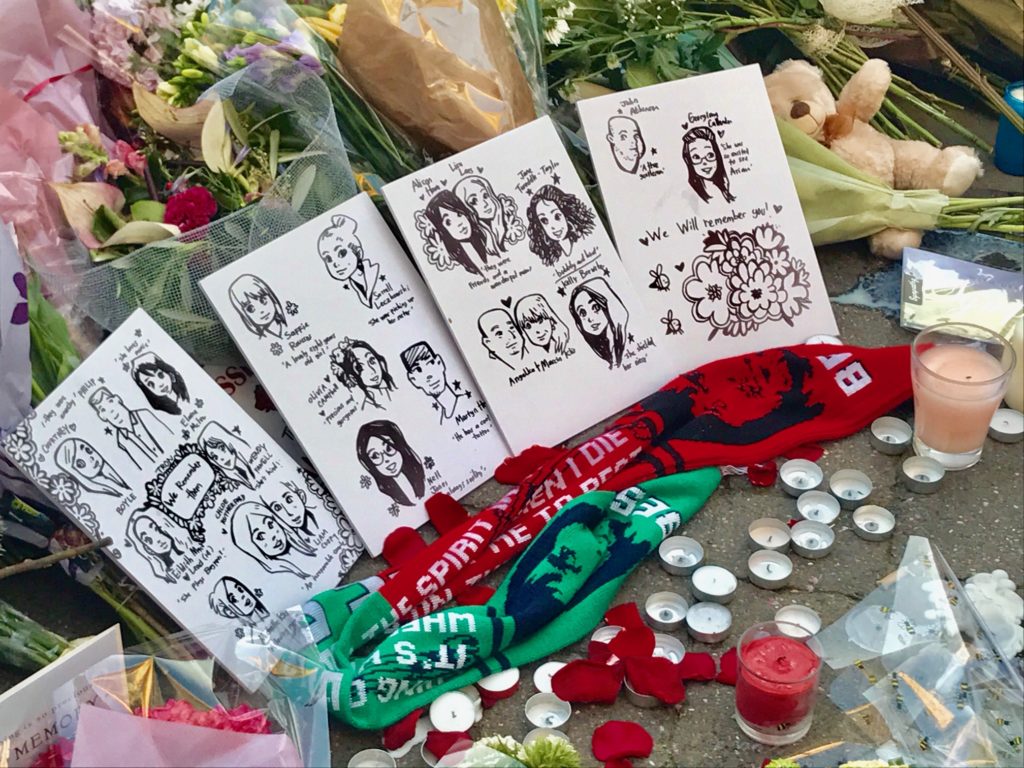 It turns out he was Eilidth's uncle; he laid his flowers and walked away. Somehow, meeting one of the victims relatives made it even harder to cope with the harsh reality of what had happened. 22 innocent lives gone. 🙁
Over the next few days stories began to pour through of the bravery of the heroes within our Emergency Services. Almost 300 people & 60 ambulances were involved in handling the aftermath of the Manchester Attack; working long hours to support Manchester in its time of need. I heard of taxi drivers from Liverpool and Manchester rushing to the city centre to offer free lifts to people from the arena to get them home safely, unaware of severity of what they were getting into.
I saw hashtags trending on Facebook and Twitter "#RoomForManchester" involving people offering beds for the nights and nearby Holiday Inn Express taking in more than 50 children; offering free rooms and food. The incredible displays of generosity and compassion is heart warming –  demonstrating our solidarity against hate with love.
A donation website was set up a few hours after the horrific attack took place so people could donate money to the victims families. To date, this has raised over £2 million and a further £8 million in offline donations. A  concert called "One Love Manchester" was also was held at Manchester Cricket Ground, two weeks after the attack. Tickets went on sale on the 1st June 2017 and sold out in 6 minutes, with all proceeds going to charity. I tried for tickets myself but I couldn't get on the site as it crashed due to heavy traffic.
The first performance of the night, Stevie Wonder appeared via video link. After Heap's performance, a video of prominent Manchester footballer David Beckham reading a poem dedicated to the city was played. The lineup consisted of names such as: Justin Bieber, the Black Eyed Peas, Coldplay, Miley Cyrus, Marcus Mumford, Niall Horan, Little Mix, Katy Perry, Take That, Imogen Heap, Pharrell Williams and Robbie Williams.
Videos of U2 and the players of Manchester United and Manchester City declaring their solidarity with Manchester were also shown.
Manchester's own Liam Gallagher made a surprise appearance near the end of the concert. Everyone expected his brother Noel Gallagher to appear too but he was in Rome and didn't return home for the concert. 
The event was broadcast live in 38 countries around the world and on 65 radio stations globally. All proceeds went to the Manchester victims and approximately 50,000 people attended the event.
Photo from Hello Magazine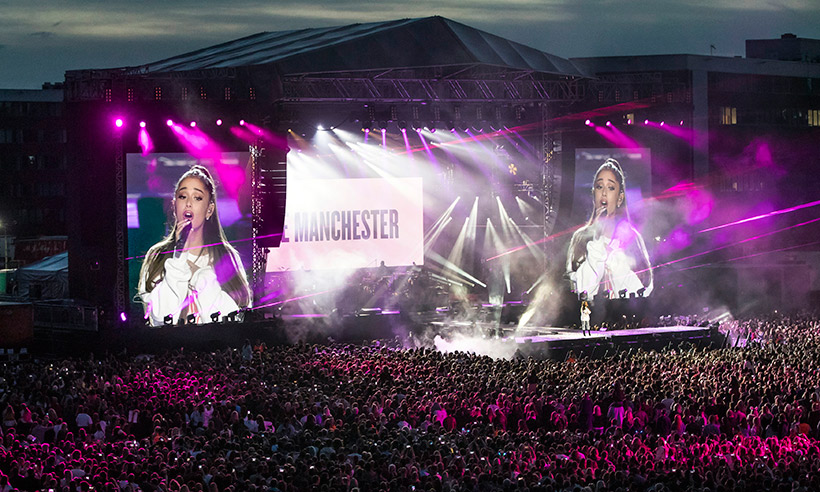 Even though I thought the concert was a nice idea; I did think it was way too soon. They hadn't even buried the first victim yet. The people who attended the Ariana Grande concert were allocated free tickets to the event, however, I think most people who were there would agree that this date would have been too soon for them.
On match days I work at Manchester United. On the day of the concert –  Sunday 4th June 2017 – the Michael Carricks Testimonial match at Manchester United Football ground in Old Trafford had took place a few hours earlier. Executive boxes were donated to the Manchester victims' families free of charge including free food/drink and a chance to meet the players from the United's Champions League-winning team of 2008 and Carrick's All-Star XI team (past and current players).
I did meet one of the families and as they left the stadium; they thanked the staff for looking after them and tipped the waitress £50 which was a nice gesture. They said United proved a few hours of escapism for them, which I suppose was different to if they had of gone to the concert a few hours later.
The tattoo artists in Manchester also launched the 'Tattoo Appeal'. Tattoo artists around Manchester charged people £50 to have a Manchester Bee tattooed on their skin. The Manchester Bee represents is one of the best-known symbols of Manchester. It was adopted as a motif for Manchester during the Industrial Revolution; at a time when Manchester was taking a leading role in new forms of mass production.
It symbolises Mancunians' hard work during this era and Manchester being a hive of activity in the 19th century. If you walk around the city you will see the bee everywhere; from the sides of buildings, street walks and signs to burger vans, windows and even the town hall. All the money from the tattoos went to the Manchester victims fund for charity.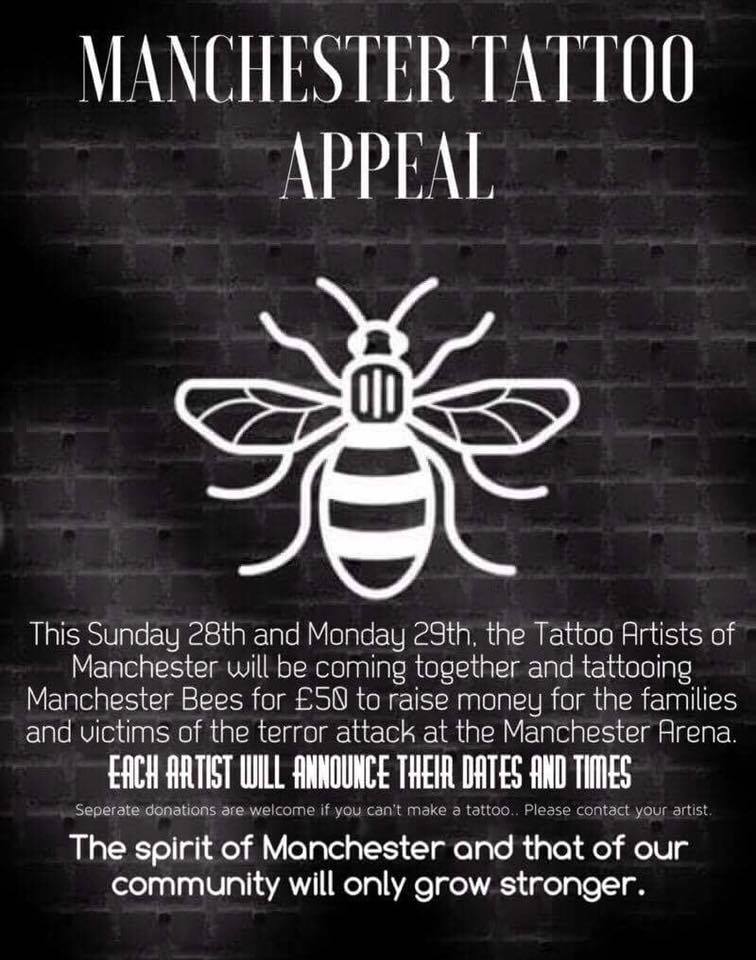 What I find to be wonderfully mad about the whole thing is all over the world people decided to get the bee tattoos, too. As far as Australia, people had decided to permanently show their sign of support for Manchester.
A month has gone past now; yet people and companies are still raising money for the victims' families by selling t-Shirts, stickers and pin badges. It's amazing to see the effects that such a devastating action of one person can cause. Cities and communities across the world have raised over ten million pounds in total. Ariana Grande herself paid for the funerals of the victims.
These are the 22 victims. They may be gone, but they will never be forgotten and will always remain in our hearts and minds ❤️
Megan Hurley, 15, Liverpool
Elaine McIver, 43, Cheshire
Courtney Boyle, 19, Gateshead
Philip Tron, 32, Gateshead
Wendy Fawell, 50, Otley, Leeds
Eilidh MacLeod, 14, Isle of Barra
Chloe Rutherford, 17, South Shields
Liam Curry, 19, South Shields
Sorrell Leczkowski, 14, Leeds
Michelle Kiss, 45, Blackburn
Jane Tweddle-Taylor, 51, Blackpool
Nell Jones, 14, Goostrey, Cheshire
Martyn Hett, 29, Stockport
Angelika Klis, 40, Poland
Marcin Klis, 42, Poland
Olivia Campbell, 15, Bury
Alison Howe, 44, Royton
Lisa Lees, 43, Royton
Kelly Brewster, 32, Sheffield
Saffie Rose Roussos, 8, Tarleton, Lancs
Georgina Callander, 18, Whittle-le-Woods, Lancs
John Atkinson, 26, Radcliffe, Manchester
If you want to donate to the victims families here is the link – https://www.justgiving.com/crowdfunding/westandtogethermanchester.